This Matcha Cookie Recipe makes gooey cookies with slightly crunchy edges, they are flavored with matcha powder, and packed full of rich white chocolate chunks. They are a fun twist on classic cookies!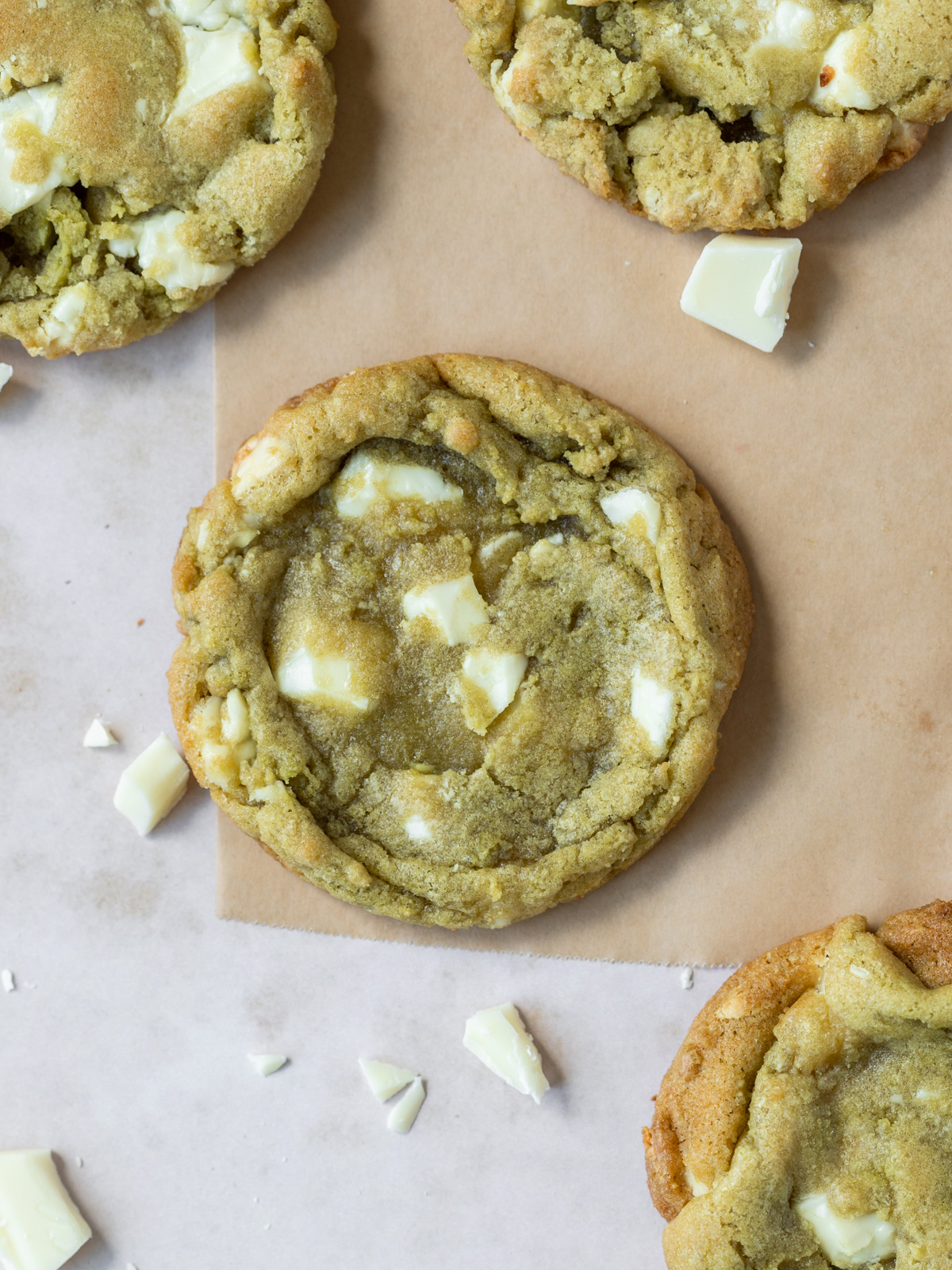 Matcha is definitely not for everyone and can be an acquired taste, but those who love it will be obsessed with this Matcha Cookie Recipe. The matcha taste is not overpowering, but it is distinguishable. The white chocolate chunks are the perfect flavor companion and really elevate these cookies. Take a look at my Matcha Macarons if you're wanting more matcha in your life!
If you're looking for more cookie recipes check out these Biscoff Butter Cookies, Strawberry Crunch Cookies, or Chocolate Chip Marshmallow Cookies.
Jump to:
Why You'll Love This Recipe
Matcha is a unique, but delicious flavor that pairs perfectly with the white chocolate in these cookies. You get the same tasty flavor combo with my Matcha Brownies!
The color is very visually appealing. These Red Velvet Macarons give you an equally stunning visual.
The centers of the cookies are soft and chewy while the edges are slightly crispy for a perfect bite.
Ingredients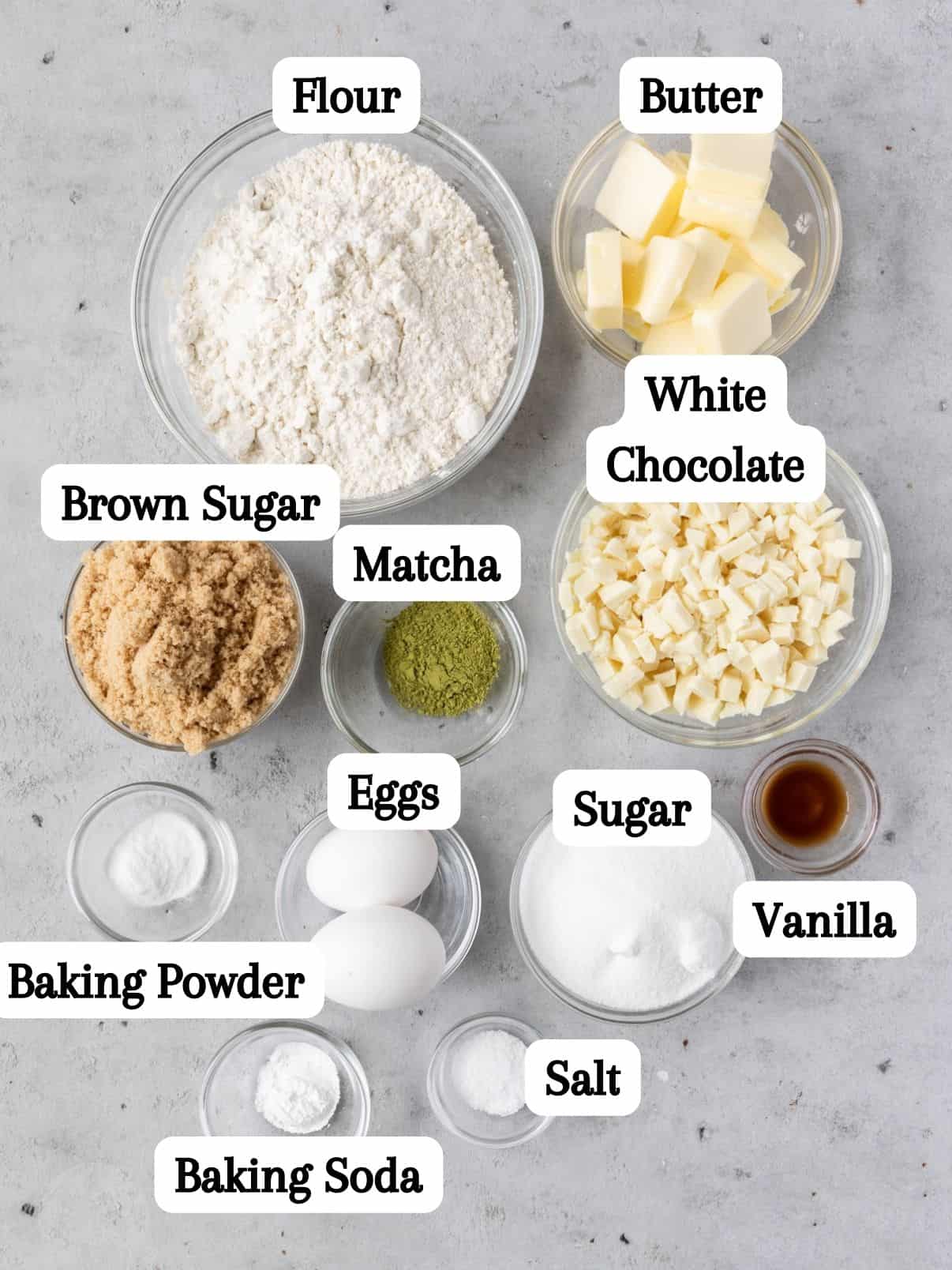 Ingredient Notes
I always make sure to use unsalted butter when baking because there is no "standard" for the amount of salt they can add to butter. So if you add salt to a recipe and then use salted butter you could end up with a very salty end product.
Matcha powder will flavor the cookies.
If you're wanting puddles of white chocolate chop up a chocolate bar instead of using chocolate chips. You can find the same white chocolate chunks if my White Chocolate Raspberry Blondies.
See the recipe card below for a full list of ingredients and measurements.
Substitutions and Variations
You can add more or less matcha according to your taste, but I wouldn't add more than 4 tablespoons of matcha powder.
You can use different types of chocolate to suit your taste.
Add some chopped almonds to create matcha almond cookies.
Leave out the chocolate entirely to make chewy matcha sugar cookies.
This recipe has not been tested with other substitutions or variations. If you replace or add any ingredients, please let us know how it turned out in the comments below!
Step-By-Step Instructions
STEP 5: Preheat your oven to 350 degrees (F). Line a baking sheet with parchment paper or a silicone baking mat.
STEP 6: Make scoops of cookie dough about 1 ½ to 2 tablespoons in size. Place at least 3 inches apart on the prepared cookie sheet. Repeat with remaining cookie dough.
STEP 7: Bake the cookies for 10-12 minutes or until the edges are golden brown.
STEP 8: Remove the matcha cookie recipe from the oven and allow them to cool on the cookie sheet.
Expert Baking Tips
Chill your cookie dough. I know skipping this step is tempting (you want your cookies as quickly as possible and I can't blame you for that!) but don't do it! Chilling cookie dough prevents the cookies from overspreading. This can cause them to be thinner, crispier, and change the overall flavor of the end product.
Use an oven thermometer. Most ovens run either hot or cold. Using an oven thermometer ensures that you are baking your matcha cookies at the perfect temperature.
Don't use cold ingredients. Ensure that all of your cold ingredients are at room temperature before making your cookies. The ingredients will combine much easier and you won't have chunks of cold butter in your cookie dough, which can lead to greasy cookies.
Weigh your ingredients. One of the most common baking mistakes that I see is measuring incorrectly, especially with flour. The best way to get accurate measurements every time is to weigh them with a kitchen scale.
Use a cookie cutter to shape your cookies after baking. If you shake a cookie cutter around the cookies when they are fresh out of the oven they will be perfectly round and more visually appealing.
Recipe FAQs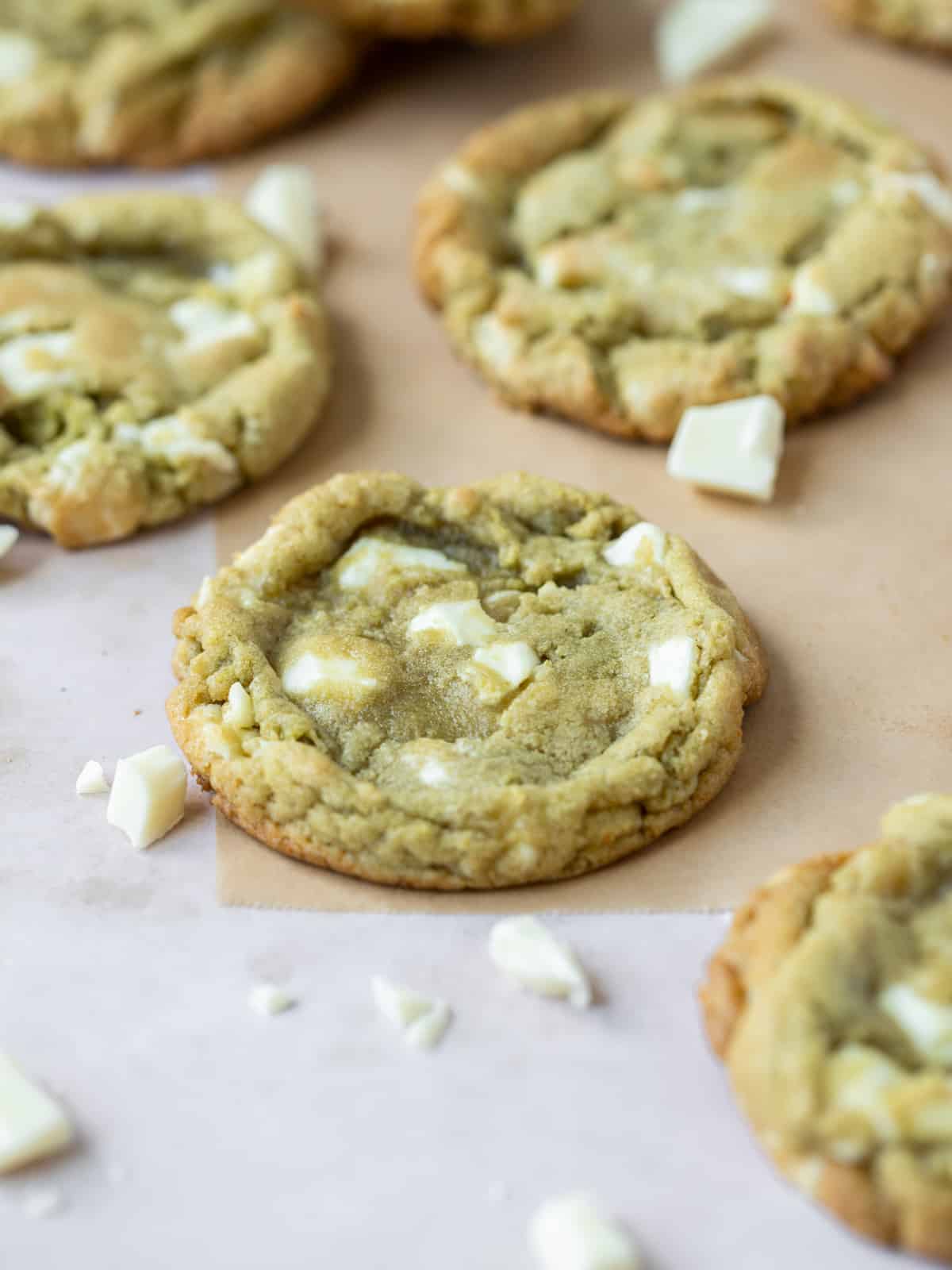 More Recipes You'll Love
If you tried this Matcha Cookie Recipe or any other recipe on my website, please leave a star rating and let me know how it went in the  comments below. I so appreciate hearing from you!
Recipe